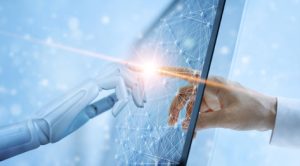 Traditional efficiency and restructuring initiatives often evoke images of scaling back rather than leaping forward. However, disciplined innovation can deliver profound impact to the bottom line when companies get the recipe right.
As one component of our program, EHS has worked closely with clients who have an increasing interest in digitization and its application to operational efficiency, organizational effectiveness, and the customer experience. Many of these public companies have identified opportunities, for example, in robotic process automation (RPA), replacing repetitive human tasks with rapidly available, relatively inexpensive, tailored automation software capable of performing the same tasks. RPA can provide substantial efficiency improvement, especially in administrative business units such as finance, human resources, IT, regulatory and other overhead, where processes exhibit the characteristics best fit for automation.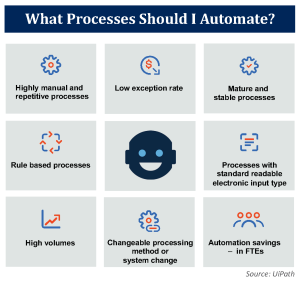 Despite the abundance of opportunity and interest in automation, many companies find it difficult to translate improvements into hard financial results. Our experience with clients points to several common challenges, including how to capture the value of saving small increments of workers' time, building buy-in with those resistant to change or unfamiliar with new technologies, and structuring flexible governance to rapidly respond to business unit needs. EHS has been able to overcome these barriers with a strategy that drives full identification of opportunities while ensuring resolution of risk, local ownership, and senior level support resulting in tangible capture of benefits. Embedded in the EHS program model, our approach to automation is based on several key design principles:
High employee engagement. This is critical to accurate understanding of process complexity and (eventually) to real buy-in and acceptance during the execution phase.
Casting a broad net. Within a focused timeframe, ensuring that high value opportunities are efficiently harvested across all parts of the business – regardless of their starting point or background with intelligent automation.
Making opportunities actionable. Grounding decisions and commitments around each use case in measurable improvements, actual investment costs, timelines agreed to by all major stakeholders, and a 100% focus on ensuring that the company is able to capture and realize all of the efficiency gains as financial results.
No self-limiting beliefs. Search for opportunities to leverage the entire automation ecosystem, including the more novel, high value use cases that may incorporate elements of AI, machine learning, and advanced character and voice recognition technologies.
Automation Case Study
"We don't know where to begin" is a common concern clients express as they become interested in automation.
One example of a highly successful starting point comes from a recent client where a single half-day workshop with 12 employees identified a potential 40% efficiency improvement opportunity in their regional finance organization.
Together, the employees participated in a virtual workshop where first they learned the basics of automation, including Robotic Process Automation (RPA), Artificial Intelligence (AI), Machine Learning (ML), Optical Character Recognition (OCR), Natural Language Processing (NLP) and more. Led by EHS and our automation partner, UiPath, employees then generated approximately 25 high-value use cases based on their own daily work, prompted by the question "what tasks comprise the worst half of your job?"
Finally, paired with automation experts, employees began immediately designing automations in a "no code" development environment. Over the course of three hours, novice workshop participants demystified the perceived daunting topic of automation to produce significant efficiency opportunities worth meaningful financial savings.
The basic belief ensuring successful creation and adoption of automation solutions is positioning employees at the center of change. It may seem obvious that typical failure points come from impositions upon workers, including mandates from leadership or deployment of technology directly from IT eschewing business unit input. An employee-centered approach can neutralize job security concerns and empower employees and managers to think creatively, often surpassing expected outcomes.
The current uncertain environment demands creativity and urgency to make change. The EHS 18-week program provides the structure, including ideation, valuation, and decision making, to fundamentally transform the way a business works. EHS rapidly and thoughtfully partners with companies to deliver sustainable change.
Enjoy this article? Sign up for our Newsletter: